SheTech is a STEM activation and engagement platform for girls. Girls gain exposure to technology, individually create using technology, meet mentors, learn about careers in STEM fields, receive a certification and gain access to internships and scholarships.
SheTech Explorer Days are industry-centered, hands-on interactive STEM exploration days held across the country for 9th through 12th grade high school girls.  These day-long events are focused on hands-on activities in science, technology, engineering and math (STEM). Girls spend the morning in hands-on sessions and the afternoon solving a technology challenge, pitching their solution and competing.
TechArt Hour of Code, introduced through a White House press brief, is a beginning coding module to introduce students to code. This module not only shows them how instructions impact code but shows them how their code creates an output and how all outputs are used together.
The Women Tech Council created the SheTech STEM activation and engagement program in 2014.  More than 2500 high school girls have participated in Explorer Day, over 3500 in Hour of Code and in 2017 more than 10,000 students will participate in the program.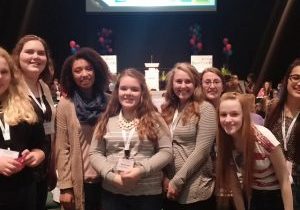 Explore The Possibilities

in Science and Technology!