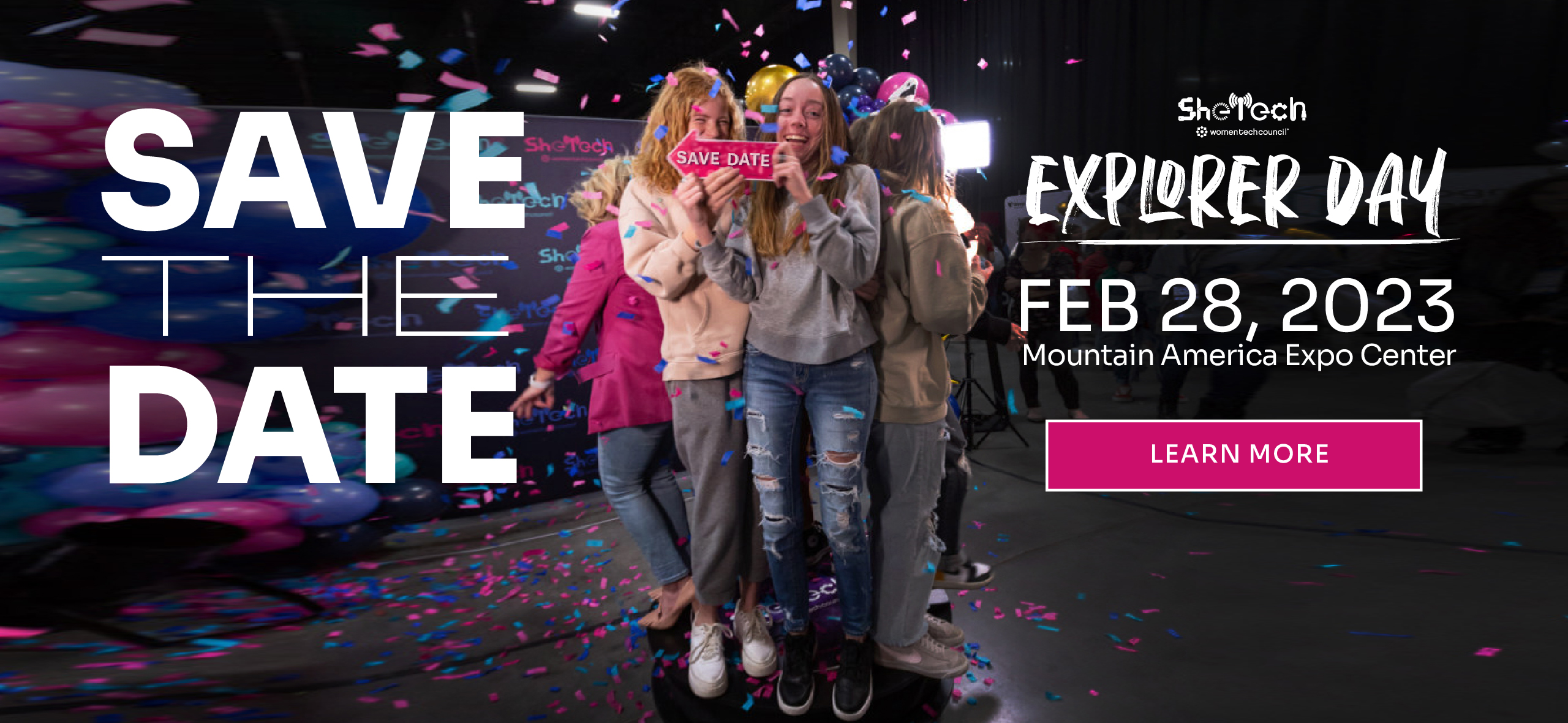 Save the Date! SheTech Explorer Day 2023 is February 28th
SheTech Explorer day is set for Tuesday, February 28, 2023, so don't wait to sign up to our SheTech mailing list for the 2022-2023 school year! You won't want to miss out on important news, event dates, activities, and more ways to participate. We look forward to welcoming everyone back in September with our Student Board Kickoff and the Women Tech Awards. Sign up now!
2022-2023 Student Board Applications are Live!
We've had a busy year so far with our 2021-2022 SheTech Student Board members kicking things off in person for the first time since 2019 to learn important news about upcoming events and helping us get ready for SheTech Explorer Day. Girls had a chance to hear from guest speaker, Seraphine Kapsandoy-Jones PhD, RN who is the Chief Clinical Information Officer at Intermountain Healthcare, sharing her inspirational story of just getting out there and trying new things. Hosted at Album VC, Student Board members got to play with some hands-on tech toys and STEM experiments. Start watching for posters in the halls of your school, announcements, and social posts to stay up to date on activities and club information.
The Student Board met again in January to finalize plans for Explorer Day and test some of the STEM experiments for the Women Tech Council booth this year. If you're interested in becoming a Student Board Member and spreading the word about SheTech in your school, apply today! 
SheTech Internship Exploration Finishes off the 2021-2022 Year
Did you like what you saw at Explorer day? Are you looking to have more fun with SheTech? Are you worried about what comes next after school? SheTech helps answer all of your questions about careers and college pathways in STEM through our SheTech Summer Internship Exploration program.
We kicked off the program in June at Swire Coca Cola where girls had the opportunity to tour the facilities and learn more about how tech plays an important role in manufacturing and distribution. Other site visits included Vivint, Qualtrics, NuSkin, Overstock, Listen Technologies, and NICE CXone. Girls from all over also had the opportunity to attend virtual sessions hosted by Catalyst Campus, Pelion, Hill Air Force Base, Domo, Goldman Sachs, and more. We wrapped up with a dedicated virtual session on career readiness and the internship grand finale hosted by Hale Centre Theatre with a theater tech tour.
When you're graduating, it can be hard to narrow down what college and tech school programs, or truly which professional careers you would enjoy. There are so many options and we want you to imagine the possibilities in tech! Our annual June SheTech Internship Exploration provides girls with an inside look to find out what a day in the life might look like for different jobs in STEM.
If you missed out on the internship this year and want to know more, sign up to our SheTech mailing list for the 2022-2023 school year and you won't miss out on important news, event dates, activities, and more ways to participate!
That's a wrap – SheTech Explorer Day 2022 was a success!
We welcomed nearly

 2000 students to Explorer Day 2022

and it was great to be back in person!
The buses came, the students flooded in, and we had an awesome day with everyone at SheTech Explorer day at Mountain American Expo center on March 1st. Governor Cox joined the Women Tech Council and welcomed students from more than 150 schools across the state. Students attended sessions hosted by tech and STEM industry partners, enjoying hands-on activities in programming, engineering, robotics, biomedicine, web development, UI/UX, gaming and Esports, VR, and more. There was much to explore in the TechZone, from 360 photo technology to aerospace programs, the tech in soft drink distribution, museums, aquariums, and careers across local and worldwide software companies. Schools from around the state came to show off ways their programs help students create and innovate, and everyone learned how tech is involved in everything we interact with and enjoy.
With the help of industry mentors, volunteers, and our SheTech Student Board members, girls in grades 9-12 worked in teams to compete for prizes in the TechChallenge competition. We celebrated our SheTech graduating seniors and even awarded some scholarships! It was great to be back in person this year and we want to see you next year. Talk to your teachers, parents, and bring your friends to SheTech. You won't want to miss the fun in store all year long!

SheTech at the 2021 Women Tech Awards
In September, 75 SheTech students were invited to attend the 14th Annual Women Tech Awards at the Grand America Hotel. This event recognized 21 women and three college students making a difference in their communities and professional networks by innovating, advancing, educating, and lifting other women in their careers. Of the finalists, there were eight award recipients and one Student Pathways Award winner. You can read more about the event and the difference these women make on the Women Tech Council website.
Sign Up FREE for SheTech
SheTech is a free program, thanks to our generous sponsors from the tech industry. Be sure to get on our email list for a chance to experience even more events, activities, tech conferences, and more. SheTech offers a unique, insider's access where girls have the opportunity to network directly with women who are leaders in the tech industry. Don't miss out! Sign up today to be a part of SheTech and join us for the 2022-2023 program for a full year of FREE activities and events!
SheTech 2022-2023
SheTech helps girls recognize the opportunities they can pursue in STEM education and careers. This program provides monthly events and opportunities for young women to learn and discover how their dreams can be realized in tech.  The Annual Program includes:
STEM Mentor 3x3 Connections 

Tech Community Events

Student Leadership Board

SheTech Competitions

Women Tech Awards 

SheTech Explorer Day

Summer Internship Program

SheTech Coders

SheTech Digital Inclusion Project
SheTech helps girls recognize the opportunities they can pursue in STEM education and careers. This program provides monthly events and opportunities for young women to learn and discover how their dreams can be realized in tech.  The Annual Program includes:
STEM Mentor 3x3 Connections 

Tech Community Events

Student Leadership Board

SheTech Competitions

Women Tech Awards 

SheTech Explorer Day

Summer Internship Program

SheTech Coders

SheTech Digital Inclusion Project